Dental Nurse
Karine traveled the world from Brazil and landed on our doorstep 5 years ago. She then retrained to meet British requirements to register as a dental nurse and also qualified in dental radiography.
Since then has been influencing the practice with her Brazilian friendliness and informality and also her fondness for Brazilian cuisine.
She is appreciated by patients for her eagerness to facilitate treatment for them, and also her extensive dental knowledge, particularly in relation to orthodontics and implants.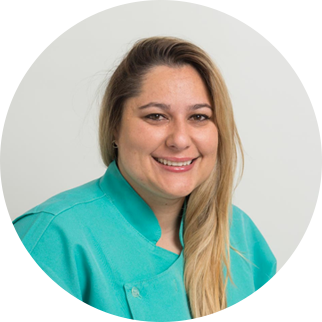 Our Team
May we take this opportunity to introduce Dr Paolella and her exceptional team, all of whom have are specially trained to relax you and to give you confidence and support.
Thank you SO, so much for the lovely cleaning you gave me on Saturday. Thank you for all the support you gave me on the way to managing it – it was invaluable, as I'm sure you know. I was sorry not to see you on Monday to thank you in person.... as I bonded with your care the most in the run-up.
I first came to Gentle Dentist around 2015 as a terrified patient who needed many root canals and other work. The team were very caring and helped me get through the extensive treatment needed. As a person who has extreme discomfort when confined to the chair and having tools etc in my mouth, I cannot believe I got through the treatments that had to be done. It's all thanks to the brilliant team at GD. Today is April 2018 and I have just come back for a check up. Although still nervous, the team once again put me at ease. For any person with any kind of dentist phobia, I definitely recommend this place!
Myself, wife and 2 children (now adults) have been treated superbly by Toni and her team for over the last 30 years. I cannot fault any of the treatments prescribed suffering no after effects. There are other more expensive dentists around not necessarily practising in London.
Myself, wife and 2 kids have trusted Tonis team for 10 years. They have done a brilliant job - totally professional and caring.
It must be pretty rare for anyone to say they've become friends with their dentistry team but that's exactly what has happened with the crew at the Gentle Dentist. There's always such a great welcome and it goes without saying that the dental work is first class. I would thoroughly recommend them.
After neglecting my teeth for some time and then getting toothache I was forced to do something.
I looked on line and decided to try the Gentle Dentist as it said it dealt with nervous patients which I certainly was/am. Well I'm so glad I did as thanks to everyone there my teeth are now so much healthier and I feel so much better knowing that. I just wish I'd not left it so long.
20 years ago I had the miss fortune to fall and break (smash) 14 teeth, I cannot begin to describe the pain and complications that followed. The agony was exacerbated by several dentists, over several months, 2 in Harley st. the mental scares live brightly in my memory. Then I met Toni, The Gentle Dentist, I feel so comfortable with her and trust her work to the degree I sometimes fall asleep during treatment. None of the other dentist's work lasted much more than 5 years, Toni's has lasted 20 years so far.
The Gentle dentist is the only dentist who was gentle and carried out work which is still in place today. You will find cheaper, you won't find better.
I have been a client for many years and Toni and her team's sensitivity makes the practice feel like home.
The practice and team are the most professional, dedicated, passionate professionals, offering the most advanced dentistry I have experienced, their care leaves to be desired.
I have been a long standing patient of the Gentle Dentist. I initially went to see Toni on a recommendation from a colleague who waxed lyrical about Toni and her practice! And I never looked back! Since then I've had significant orthodontic work and have been wonderfully looked after by David. The welcoming committee aka Sally is a breath of fresh air. Not only warm, friendly and inviting but helpful & conscientious. Everyone at TGD is brilliantly thorough, diligent, kind and caring. Someone will always see you - if you're in pain or something's happened to a retainer, fixed brace - you will always get an appointment! A great team of professionals. I'd not go anywhere
The only dentists I have ever missed between appointments and looked forward to having to go and see.
Friendly and flexible staff. They clearly know their field do their level best to accommodate and offer good advice. Nice offices and the equipment is up to date.
I am a new patient of Dr Paolella and have been treated very well. I am very nervous and my teeth extremely sensitive and have now spent an entire day having all my work done under sedation and did not feel a thing. Her technician is amazing and very talented at colour matching. She has a lovely new practice in Covent Garden with 'state of the art' equipment, lovely staff and a very gentle hygienist so at all times I felt in good professional hands.
To Toni, David, Chris & all the team, I just wanted to say thank you for doing a first class job on my teeth, I still can't believe the transformation.
They are just amazing.
Just a quick note to say.
THANK YOU, THANK YOU AND LAST OF ALL THANK YOU!!
I will eternally be grateful for plucking up the courage to make the first visit. How lucky am I?!?!?
I have never been to any private practice with such friendly and hard working staff!!
Certainly makes the whole process a million times easier and more bearable!
Modern and friendly dental place. Does offer high quality services, Comfortable environment. I found all that I was looking for: healthy, good-looking and a natural smile.
I'm lucky and now i can enjoy my family and my friends without shame.
It did make a massive difference on my confidence, and took my phobia away! Excellence practice, affordable prices and fair considering the service that is offered.
Thank you so much girls!!!!!!!
How to find us
61 Shelton Street
Covent Garden
London
WC2H 9HE
Monday: 09:00 - 20:00
Tuesday: 09:00 - 21:00
Wednesday: 08:00 - 18:00
Thursday: 08:00 - 18:00
Friday: 08:00 - 16:00
Saturday: Closed
Sunday: Closed
Weekend appointments can sometimes be accommodated by special request.
We look forward to meeting you at your initial appointment.
Tel:020 7395 0520
News and Articles
Donec metus dolor, rhoncus et mauris ut, auctor volutpat felis.